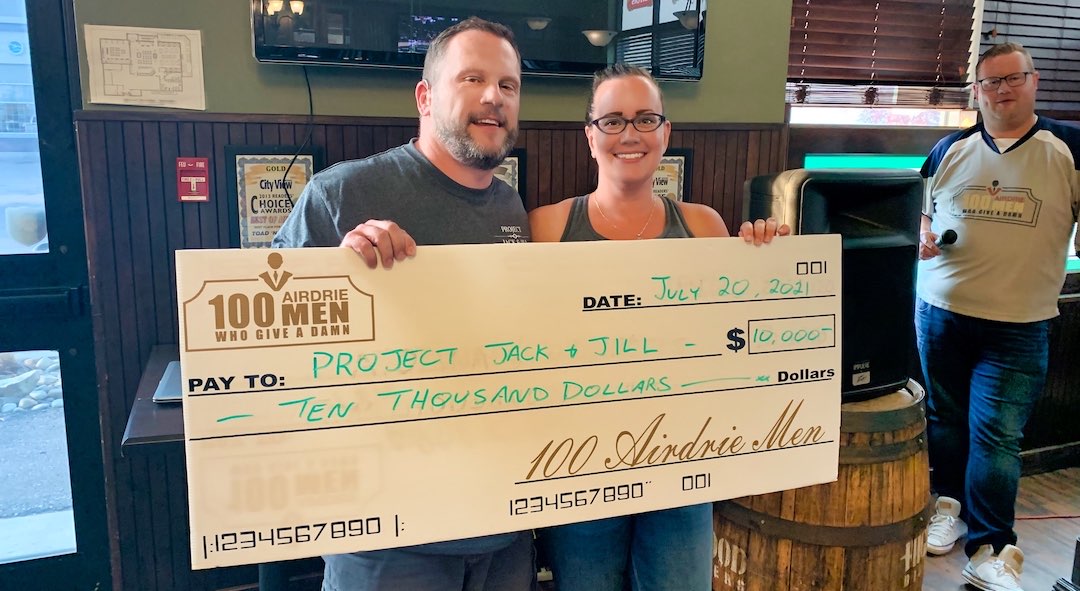 For the first time in five meetings, the 100 Men were able to meet in a way that was not restricted by COVID-19 regulations. It was great to be back in person and see people mingling and doing what we do best. Coincidentally (or not??) we also had a record-setting meeting - thanks to a couple of generous donations - and everyone went away a winner. More on that below.
This was also the first meeting where we trialled nominating groups that did not have a charitable status (meaning that there will not be tax receipts sent out).
The meeting kicked off with an introduction from MP Blake Richards who spoke about his appreciation for our group and the work we do and how it impacts our community. It should be recognized that Blake, along with Mayor Peter Brown and MLA Peter Guthrie, are all paying members of the Airdrie 100 so they're not just coming and speaking for the publicity.
After Mr Richards, we welcomed our guest speaker which was the
Circle for Indigenous Relations
. With all the news in Canada in recent months on residential schools, we thought it was a good time to share the work of this volunteer group. CFIRAirdrie is a grass-roots, community-driven initiative supported by the City of Airdrie. It is a place for Indigenous and non-Indigenous Peoples to come together to engage in meaningful conversations, to work together organizing events and activities as well as initiating changes that ensure a safe, supportive and inclusive community.
They talked about the work they're doing in trying to improve relationships between Indigenous people and the Airdrie community and about the need to listen to other cultures, raise awareness, and work towards genuine reconciliation. Reconciliation can come in many forms and we were encouraged to find ways that we can start working towards reconciliation that make sense for us. Ten ways were offered as ways we can act (see image below).
Next, we had an update from our previous recipient - the BGC Airdrie Club. The club made good use of our donation and were able to reduce program fees for participants by up to 75%! 105 children were able to participate in BGC programming this past spring/summer at the highly reduced fees - meaning more money for families that need it and more money that they can then put back out into the community. Well done!
Up next, after some door prizes, was the main event.
Our first presentation was from the Airdrie Field Turf Project Society. They talked about their project aiming to bring an artificial turf field facility to Airdrie. They spoke about what it would mean to local sports, the safety benefits, as well as the economic impact of being able to host provincial and national events that require this sort of infrastructure. The money from the Airdrie 100 would go directly to the ongoing fundraising efforts of the Field Turf Project Society.
Next was the Airdrie Soccer Association. They spoke about the struggle working through the pandemic, cancelled activities, and the quest to keep fees as minimal as possible yet still run their organization sufficiently. They would look to use the money to support coaching, clinics, equipment, and programming for the thousands of Airdrie kids that sign up each year for soccer.
The final presentation came from Project Jack & Jill. Project Jack & Jill provides graduation suits, dresses and gowns for students who are otherwise unable to afford formal wear. With a 100% volunteer-run organization, all of the money will go towards their program which includes dry cleaning, transportation, and any specialty-purchase items that are required. Included in the presentation were a couple of incredibly heartwarming testimonials provided by previous recipients. It's not a 100 Men meeting if there's not bunch of guys discretely wiping a few tears away!
Although all very deserving groups of the $10,000, Project Jack & Jill was awarded the money for this quarter and we know it will go to a very worthy cause.
However, no one went away empty-handed this meeting.
First, member Wayne Lodge was able to secure $2,500 via his union (thank you Christian Labour Association of Canada!) to split between the two other charities -. On top of that, the Live Local program (
get your hoodie here
) - an initiative that also supports local programming - was able to donate $1000 to split between the two charities. Finally, as per recent policy, any donations above and beyond the $10,000 mark are split between the two charities that do not get the $10k. We had 110 payments for this meeting which means we had $14,500 (!!) to give away - $10,000 for Project Jack & Jill and $2,250 for the Field Turf Project and Airdrie Soccer. Incredible!!
A massive thank you to our membership for their generosity.
I want to also thank the members and businesses that donated door prizes. These really go a long way in providing a nice bonus for our meetings and it's awesome to be able send so many people home with something extra. Thanks to the following donors:
◦
Keith and Sandra Wilkinson
◦
Airdrie Windshield
◦
Davis Chev
◦
Toad n Turtle
◦
Tiger Propane
◦
Jams
◦
Township 27
◦
David Bowman Painting
◦
Montanas
◦
All Fitts Auto
◦
Airdrie Paint & Blinds
◦
Second Gen Exteriors
Thanks again members! See you in October.
Back