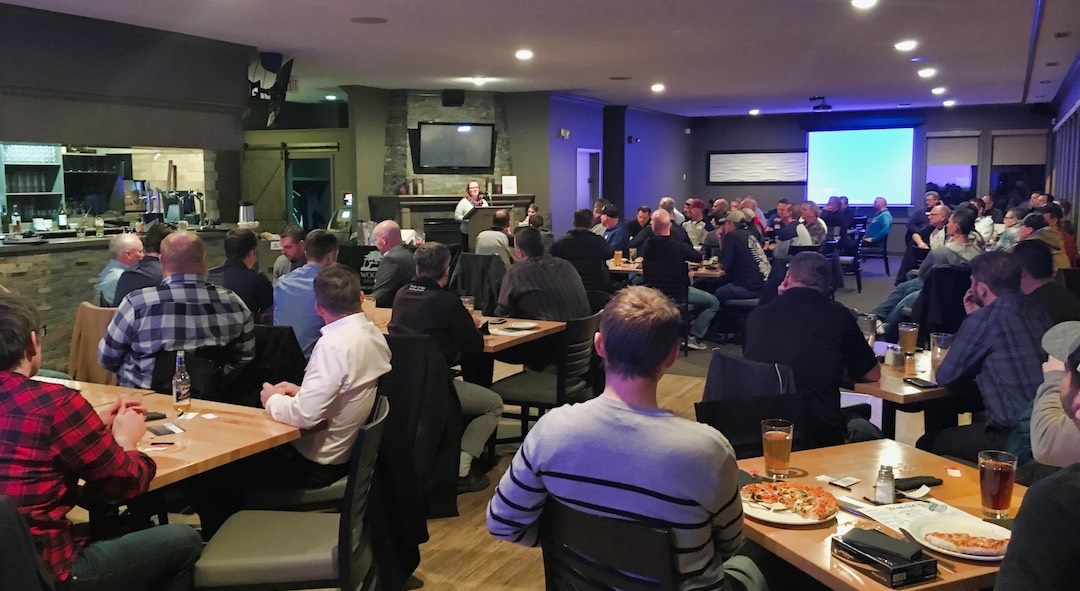 We definitely kicked off 2019 with a bang! While we have given out $10,000 before, this was the first time in our brief history that we officially had 100 men with a common goal donating $10,000.
It was a packed house and an incredibly difficult decision after 3 moving presentations from honourable and worthwhile charities.
The evening began with updates from our previous recipients (from our first-ever tie last meeting!) on what they have been doing with their donations.
Airdrie and District Victims Assistance Society reminded us that volunteering can take its toll, particularly in high-stress situations that the ADVAS find themselves in. The money for ADVAS is being put towards helping volunteers that experience
vicarious trauma
from supporting victims.
Tails to Tell updated us on the successful purchase of a van to help safely transport their rescue animals. They also included a decal acknowledging the support of 100 Airdrie Men Who Give A Damn - so keep an eye out for it driving in the community!
MP Blake Richards - who has
shared the 100 Airdrie Men Who Give A Damn message in Parliament
- was also on hand and spoke briefly about the benefits of an engaged community and the importance of volunteerism.
Next we had our three charities present.
The first was Quinn's Legacy Run Society. Sarah and her daughter Layla bravely recounted the day that they lost their infant daughter Quinn Isla Cormier and how that has spurred them on to advocating for benefits for bereaving parents as well as the support that their society provides parents who have unexpectedly lost an infant.
Next the Michelle and Suzy from Airdrie Angel talked about their group's work that finds local residents in need of immediate assistance. They then work with the community to source money, gift cards, meaningful experiences, and specialized items to donate, and then share those stories.
Lastly, the Wildrose Shrine Club presented to tell us all the great work they do (which goes beyond riding in tiny cars at parades!) and their motto of
fun with a purpose
. The Shriners are hoping to set up a Art Therapy program at Bethany Care Centre to help our seniors.
After another close vote, Airdrie Angel was awarded $10,000.
Thank you to all of you who donated and thank you to those of you who were able to pack the house of our gracious hosts: The Woods Restaurant at Woodside Golf Course.
Another big thank you to those that contributed to a great list door prizes! There was a basket of painting supplies from Bowman Painting, Carmens Big Way donated 2 boxes of steaks, Doug Simpson gave away wine, the Trenton Pittner Real Estate donated a couple of boxes of golf balls, Peter Flanagan brought a Maaco auto detailing package, and an
earthy
gift basket from the Canadian Cannabis Update podcast (via Michael Pedersen) was donated as well.
Back