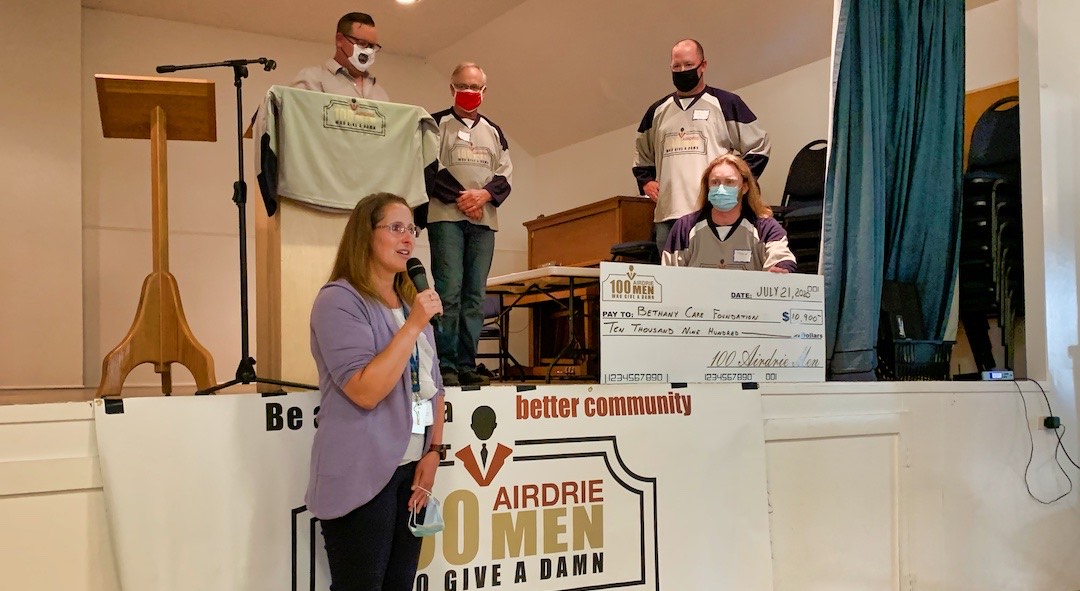 It took a collective effort to pull together our first in-person meeting in 6 months. The COVID-19 pandemic meant that there were challenges in finding a venue, food and drink options, A/V equipment, PPE supplies, etc. All alongside the larger financial challenges that many are facing.

However, a great many supporters came together to pull it off and we had a fantastic night that saw no charity go away empty-handed.

The night was kicked off with our guest speaker - MP Blake Richards. Blake talked about the new realities that we're experiencing with COVID-19 including budget challenges, work-life balance, and so on. Blake also talked about the impact on community and the hardships local businesses that have encountered and how that impacts things like fundraisers and local charities.

The need for services (ie: food banks, mental health supports, etc) are also being tested but we've all proved that we are able to come together and respond when we're needed most, with the 100 Men group being a shining example of that.

Next we heard from a couple of previous recipients from the online Q2 meeting. At that meeting, which occurred in the early and unprecedented times of the pandemic, it was voted that all 3 charities would receive funds.

Community Links began by talking about what the early months of COVID-19 looked like for their organization. Aside from encouraging online services for their clients, there were special allowances to serve their clients in-person for those that needed it. Clients included seniors, programming for those that require income tax support, as well as using their day home programming for parents requiring childcare.

Next, Airdrie Meal on Wheels provided an update (with assistance from mascots Mr Bear and Mrs Bunny). Meals on Wheels has been as essential as ever and has had to deal with many challenges related to delivering meals in a safe way to populations (such as seniors) that are at a higher risk.

After some door prize giveaways, the first charity presentation began. Bethany Care has been a staple in Airdrie - providing to care to seniors for over 30 years. COVID-19 has had a major impact on Bethany as their clients are a high risk population. Provincially-mandated lockdowns and restrictions has meant that isolation has been especially difficult for seniors, including those with depression, anxiety, and dementia.

With $10,000, Bethany would look at purchasing furniture, shelter, and sanitation equipment to allow for socially-distanced outdoor visits. This would allow for reconnection with family members and loved ones as well as reduce isolation and loneliness.

Next, the group heard from the Youth Volunteer Corps of Airdrie - a relatively new program that is part of Volunteer Airdrie. YVC offers opportunities for youth to volunteer in a structured way that gives youth a chance to learn skills, have fun, and develop personally and professionally. Programs range from helping seniors to Christmas volunteerism to food bank support, and more.

COVID-19 has also been challenging to YVC but they've persevered bye making use of technology and finding clever ways to keep youth engaged. With the $10,000, YVC would focus on equipment (to help continue online delivery) as well as maintaining all existing programming and skill development for our future business owners, community members and people who give a damn (ie: our youth).

Lastly, we heard from the Thumbs Up Foundation. Thumbs Up was founded, tragically, because of the suicide of Kim's son Braden. Thumbs Up focuses on advocating for positive mental health changes in youth, improving access to mental health supports, and dealing with associated or underlying issues (such as substance abuse).

Their pilot project 'harmonized health' is currently being evaluated but the early returns have shown enough promise to already secure significant funding. The Harmonized Health model brings a integrated approach to care that uses professionals and non-professionals together.

Even with the funding, Kim still sees gaps in the community - particularly around men's mental health. The $10,000 would allow for further expansion of harmonized health to try and fill those gaps.

To conclude our evening, there was a live auction from Shawn Hill for a weekend rental of a beautiful condo in Canmore for two nights ion September/October. Winning bid came to $1300 and funds were split between the two non-winning charities. In addition to that, a $200 cheque that was used to pay for required insurance for the event was generously donated back by Mike Atcheson, which meant that the charities not receiving the big cheque, would be going home with $750 each.

The charity with the most votes, however, would be receiving an amazing $10,900! That charity turned out to be the Bethany Care Foundation. We know those funds will be well used and well appreciated.

Thank you again to the 100+ men who continue to give a damn and an extra special thanks to the Balzac Community Hall for providing the venue, to Michael Peterson/Red FM for providing AV equipment, to DGI Supply/Monte Dumesnil for providing PPE supplies, and to our door prize donors (David Bowman Painting, DGI Supply, Superior Hearing, Airdrie Windhsield, Carmen's Bigway Foods). Our food trucks - Krave YYC and Rocky Roadz provided some incredible food and Balzac Brewing were on hand to serve their incredible beer. Thank you as well!



Back